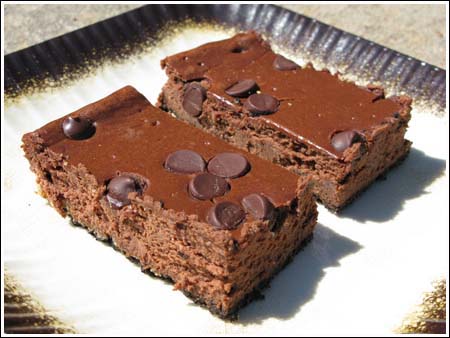 8 Double Chocolate Oreos
8 ounces cream cheese, softened
1 cup light sour cream
1/4 cup packed brown sugar
1/4 cup granulated sugar
1/2 cup Nutella
1/3 cup natural unsweetened cocoa powder
1/2 teaspoon vanilla
1 teaspoon instant espresso powder
1 large egg plus 1 egg white
2 tablespoons cornstarch
2 teaspoons Frangelico (optional, but good)
1/3 cup chocolate chips
Preheat oven to 325 degrees F. Line the inside of an 8 inch square metal pan with non-stick foil. Process cookies into crumbs and press into bottom of pan.
Wipe processor bowl clean and add cream cheese and sour cream; Process until smooth, scraping side of bowl as needed, then add both sugars, Nutella, cocoa powder, vanilla and espresso powder; process until well mixed. Scrape sides of bowl and add egg, egg white and cornstarch and pulse to mix, then add Frangelico and pulse to mix again. Pour over cookie crust and sprinkle top with chocolate chips.
Bake on center rack for 35-40 minutes. Cool completely in pan then refrigerate for a few hours or until well-chilled. Grasp foil, lift from pan, place on a cutting board and slice into 8 bars.
Makes 8 bars or 16 squares
source:cookiemadness.net