By:
Rima
Ingredients
200g margarine
50g butter - I used 250g unsalted butter
75g caster sugar
90g brown sugar
3 egg yolks
1/2 tsp vanilla essence
1 tsp coffee oil
120g of chocolate chips
100g of cashews, toasted, chopped - i used hazelnut (ita used pistachio)
350g flour
15g cocoa powder - i used cocao barry
1/2 tsp baking powder
1tsp salt - i added
Method
- Preheat oven to 160 deg C.
- Grease a pan with margarine.
- Beat butter, sugar and brown sugar until smooth.
- Add the eggs one by one, beat till combined. Add vanilla essence and coffee oil.. beat well.
- Add sifted flour, cocoa powder, salt and baking powder mixture and stir well.
- Add chocolate chips and cashew nuts. Mix well.
- Bake in hot oven for 15 minutes.
- Remove and let cool.
For Variations: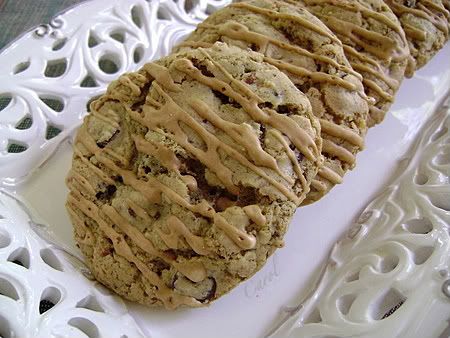 CAFE COFFEE COOKIES
(Source: adapted from Betty Crocker's Supermoist Cakes magazine)
COOKIES:
1/2 c. granulated sugar
1/2 c. packed brown sugar
1/2 c. butter or margarine
1 egg
1 tsp. vanilla extract
1 1/2 c. all-purpose flour
1 Tbsp. instant coffee or instant espresso coffee granules or crystals
1 tsp. baking soda
1/4 tsp. salt
1/2 c. chopped pecans
1 (12 oz.) pkg. semisweet chocolate chips (I think milk chocolate chips would be wonderful in these cookies too)
Preheat oven to 350 degrees.
In a large bowl, beat sugars, butter, egg and vanilla with electric mixer on medium speed until creamy.
On low speed, beat in flour, 1 Tbsp. coffee granules, baking soda and salt. Stir in pecans and chocolate chips.
Drop dough by rounded tablespoonfuls 2" apart onto ungreased baking sheets.
Bake @ 350 degrees 10-12 minutes or until golden brown and edges are set. Cool on pan for 2-4 minutes; remove cookies from pans to wire racks and cool completely.
For the glaze, in a small bowl, dissolve 1/2 tsp. instant coffee in hot water. Stir in 1/2 c. confectioners' sugar, adding more confectioners' sugar, if necessary, to reach desired drizzling consistency.
Drizzle glaze over cooled cookies. Allow glaze to set before storing cookies in an airtight container between layers of waxed paper, plastic wrap or foil.
Makes about 2 1/2 dozen cookies.
COFFEE DRIZZLE:
1/2 tsp. instant coffee or instant espressp coffee granules or crystals
1 Tbsp. hot water
1/2-3/4 c. confectioners' sugar
another variation
Chocolate-Drizzled Espresso Chocolate Chip Cookies
drizzled with dark chocolate